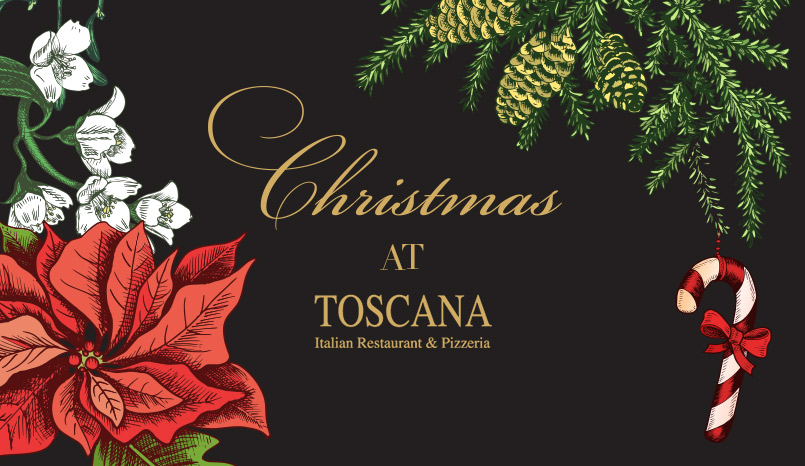 14 Dec

Christmas At Toscana Italian Restaurant

Here at Toscana, we are looking forward to the festive season. Pizzas and prezzies go well together. Or at least they would if we were open on Christmas day. Yes, we are closed on the 25th and the 26th of December but we are open on every other day! Now that's dedication for you. You can see our fully opening hours below!
Christmas Isn't Just About Buying Expensive Presents
Joking aside, everyone knows that Christmas isn't just about buying expensive presents. It's about family and friends. It's about kindness and generosity. A time of reflection and spiritual reckoning. Peace, hope and goodwill. And, of course, good food. We understand that there is no substitute for the Christmas day meal and those tasty turkey sandwiches on St. Stephen's Day. But we are happy to celebrate the season with our valued customers, which is why we are open on every other day.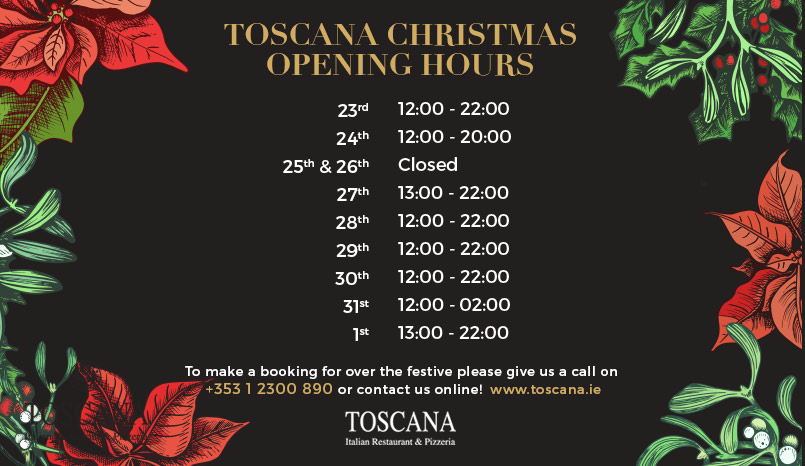 A Tasteful Festive Atmosphere
We promise a delightful Italian meal in a tasteful festive atmosphere. Whether you are a couple, a family or even a group, we will do our best to provide an excellent meal, animated by Christmas cheer. If you are going to overeat for the season, you may as well do it in style and come to us.
Our Italian Christmas Menu
We have an Italian Christmas menu that we are sure will satisfy everyone's wish list. For a starter, how about some spicy chicken wings to whet your appetite? Or maybe a delicious Caesar Salad? For mains we offer twelve different dishes, all of them delightful and genuinely Italian. Fancy some more chicken? Why not try our Pollo al Limone or Pollo alla Florentina? Our Pizza Della Casa will satisfy any pizza lover. Or try our Penne Arrabiato if you enjoy your chilli. And make sure you leave some room for dessert! How does Apple Berry Crumble, made with homemade delicious berries, sound? Or if you can't resist meringue, you won't be disappointed by our Gelato alla Meringo.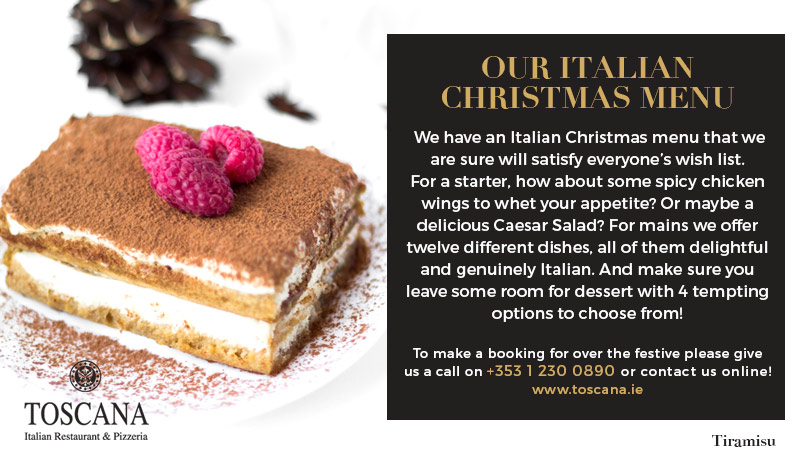 Authentic Christmas Cheer
As all our patrons and customers know, Toscana strives always for genuineness. Not just in our food but in our friendly and careful service and our warm, welcoming atmosphere. We extend this genuineness to our Christmas celebrations. We do not offer tokens but authentic Christmas cheer and a festive ambience that will affect even the grumpiest Scrooges!
It is in this spirit that we would like to say a heart felt thank you to all our patrons and customers and best wishes for the season. We hope to see you over the Christmas period and you can book online or by calling us on +353 1 2300 890 but if we don't we hope you and yours have a safe and enjoyable festive season. We certainly will.