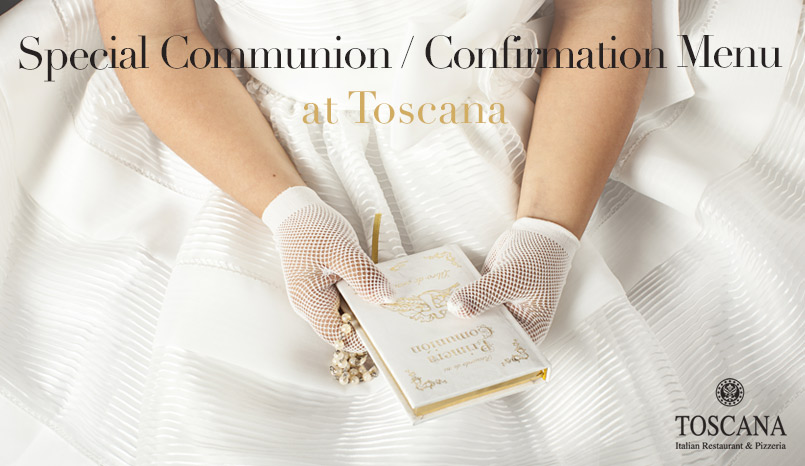 19 Feb

Special Communion / Confirmation Menu at Toscana

Ireland and Italy share many things. Religion is one of them. That is why we have a special communion / confirmation menu to mark these important occasions. A visit to a restaurant is a nice way to unwind after all the ritual and formality of the day.
Bookings for Communions & Confirmations Are Flooding In!
If you love Italian food, then get them started early with a delicious full course meal to celebrate their special day. It's an excellent way to introduce them to the joys of Italian cuisine. If you are passionate about your food, especially Italian food, then this is the occasion to pass it down to your offspring. But hurry if you want to us to be a part of the day's celebrations: bookings for communions and confirmations are flooding in so book soon to avoid disappointment.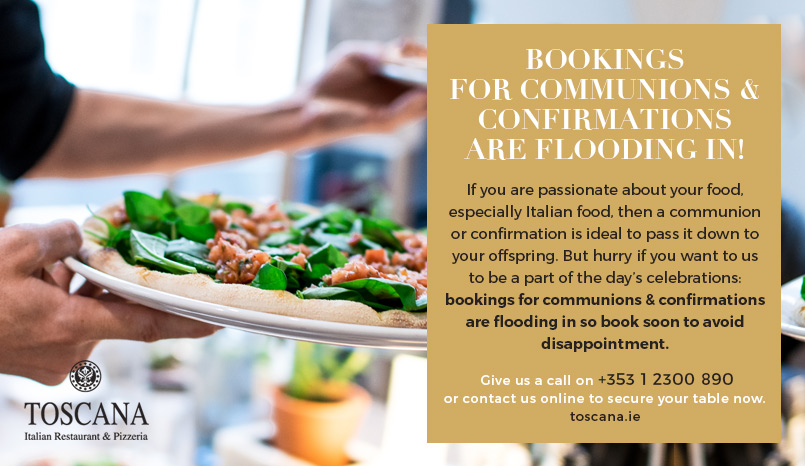 Let Us Complete The Celebration
Communions and confirmations should be memorable if nothing else. They mark the reaching of a degree of maturity. We put our best efforts into providing a meal, service and restaurant ambience that will help to make the occasion an unforgettable one. As a nation, we are not as religious as we used to be, but the church still provides the ritual and formality for special occasions and celebrations such as communion and confirmation. Let us complete the celebration with a meal from our special communion / confirmation menu.
Communion & Confirmation Menu Highlights
Just to get your mouth watering, here are some of the delights the menu has to offer. For starters, how about spicy chicken wings, marinated in fresh Italian herbs and spices and topped with a mild chilli sauce? Or maybe try our Spiedini Di Gamberi: fresh prawns skewered with seasonal vegetables and complimented with a prawn bisque sauce?
For mains, why not try our popular Salmone al Formo: a fillet of Irish salmon served with lemon and dill cream sauce? Or maybe go for the classic Spaghetti Bolognese, with ground Irish beef and tomato sauce cooked with a traditional Italian recipe. Our Penne Marinara Fresh Calamari is an exquisite choice: prawns, tuna and mussels cooked in garlic and pomodora sauce.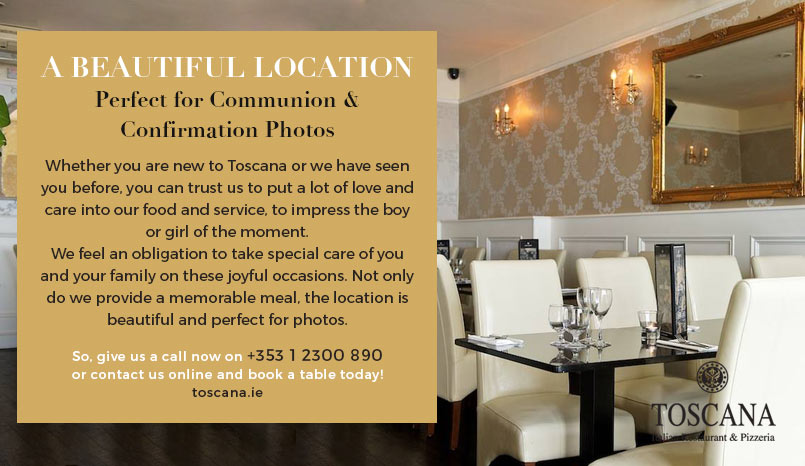 A Beautiful Location – Perfect for Communion & Confirmation Photos
These are just some of the delights on offer. Whether you are new to Toscana or we have seen you before, you can trust us to put a lot of love and care into our food and service, to impress the boy or girl of the moment. Communions and confirmations happen only once, right? We feel an obligation to take special care of you and your family on these joyful occasions. Not only do we provide a memorable meal, the location is beautiful and perfect for photos. So, give us a call now on +353 1 2300 890 or contact us online and book a table today!