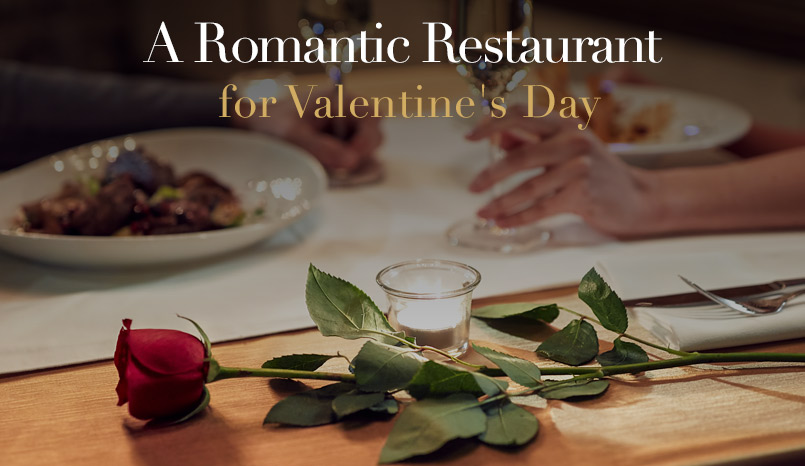 29 Jan

A Romantic Restaurant for Valentine's Day

With Valentine's Day fast approaching, we are excited about our special Valentine menu and the special romantic charm that our seafront Italian restaurant has. It is sure to delight all you love birds out there on the 14th of February! But before we get to that, we are asking why it is that restaurants and romance go so well together?
What Is It About A Candle Lit Dinner?
What is it about a candle lit dinner that makes it such a staple of a romantic evening? Why does a meal play such an important part in both courtship and the renewal of romantic bonds? Going out for a meal is more than just a nice way to spend the evening. It is a measure of your level of civilisation. An indicator of how well socialised you are. There is a certain formality involved in the occasion. A demand on your behaviour. The wait for the meal is often more important than the meal itself as you must demonstrate your grade of civilisation. The higher the grade, the more attractive you are!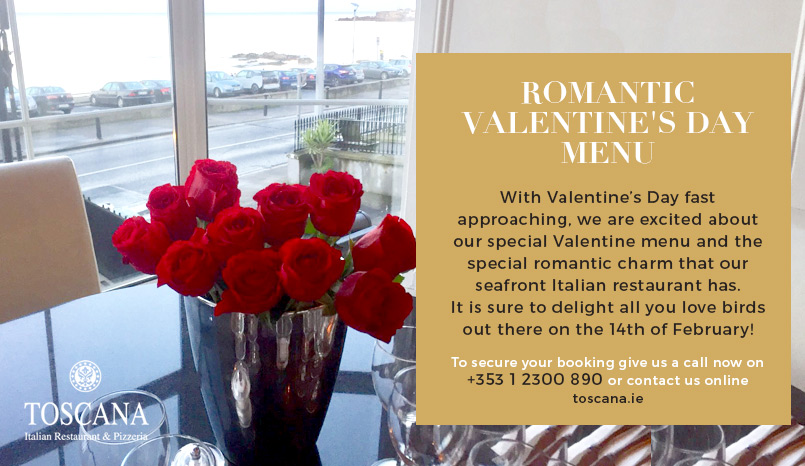 The Romantic Restaurant Meal
The romantic restaurant meal is also, of course, a way to reinforce the bond between a couple. It both recalls and renews the romantic status of the relationship. It is almost like the renewal of a contract. Going out for a romantic dinner is an indicator of a healthy relationship, just like arguing is. It shows that you and your partner still want to be together and get to know each other better.
A Special Valentine's Day Menu
Whether you are courting or reinforcing your romantic bond we hope that you will consider Toscana as the place to do it in. Not only do we offer a special Valentine menu, we are situated by the sea and, as anyone who has enjoyed it will tell you, a candle lit dinner with the sea surging in the background is an incredibly romantic experience. Indeed, many a marriage proposal has been made in our restaurant over the years as it offers such an ideal atmosphere for it. The upstairs seat is particularly sought after for Valentine's.
A Range of Romantic Culinary Pleasures
Our Valentine's Day special menu offers a range of culinary pleasures for both love birds and long-time partners. For starters, how about some chicken wings marinated in fresh Italian herbs and spices and topped with a mild chilli sauce? Or perhaps our Funghi all Aglio: mushrooms sautéed with garlic, fresh cream and garden herbs? For mains why not try our whole, fresh, wild rainbow trout with crisp coat of roasted almonds? Or maybe go for our Spaghetti all Carbonara: a traditional pancetta, egg and ground black pepper in a creamy white wine sauce. Fancy some pasta? Try our rigatoni pasta with fresh Irish venison strips, infused with red wine ragu reduction. These are just some of the items on offer not to mention our authentic Italian pizzas and vegan friendly Italian food.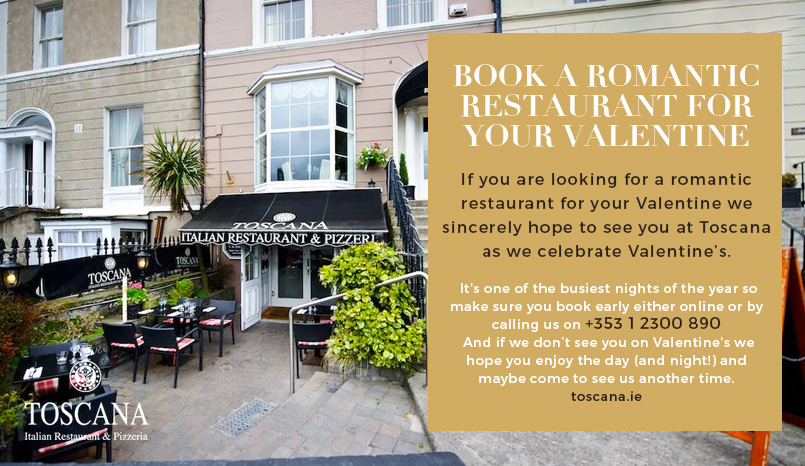 Book A Romantic Restaurant Your Valentine
If you are looking for a romantic restaurant for your Valentine we sincerely hope to see you at Toscana as we celebrate Valentine's. It's one of the busiest nights of the year so make sure you book early online or by calling us on +353 1 2300 890. And if we don't see you on Valentine's we hope you enjoy the day (and night!) and maybe come to see us another time.