23 Oct

Genuine Italian Pizzas – Authenticity and Choice

As an Italian restaurant, we are very proud of our delicious authentic pizzas. Our three most popular choices are the Rustica, the Toscana and the Frutti de Mare. Come visit us and enjoy a slice of genuine Italian cuisine, literally, by choosing one of our excellent pizzas.
Real Deal Italian Pizzas
Many of you will remember the days when just about the only pizza available for home cooking was the deep pan, frozen pizza by Goodfellas. It was a far cry from that offered by restaurants and fast food establishments. Home cooked pizzas have come a long way since then, but they still don't compete with those offered by restaurants, and especially Italian restaurants. If you want the real thing, you must go out to find it.
A Well Made Pizza Is A Work of Art
In general, pizzas are more expensive than other types of restaurant / fast food cuisines such as burgers or fish. Why is this? Well, a lot more effort goes into preparing and cooking a pizza. Indeed, a well-made pizza is a work of art (not to mention the mystery of the Margarita pizza!). Pizzas are also tastier and more filling than other types of eat out food and they are probably the most authentically Italian items on any Italian restaurant menu. But, having said this, the beauty of pizzas is in the variety of toppings available which makes them adaptable to any kind of cuisine. There is a huge choice of toppings out there in both shops and restaurants.
Our 3 Most Popular Pizzas
Our three most popular pizzas are the Toscana, the Rustica and the Frutti de Mare. The Toscana is a traditional style pizza made of ham, salami, mushrooms, peppers, olives and pepperoni. The Rustica is another classic, with parma ham, goat's cheese, roasted red peppers and black olives. If you enjoy your seafood, then why not try our delicious Frutti de Mare? This pizza is made of tuna, mussels, shrimps, anchovies and garlic.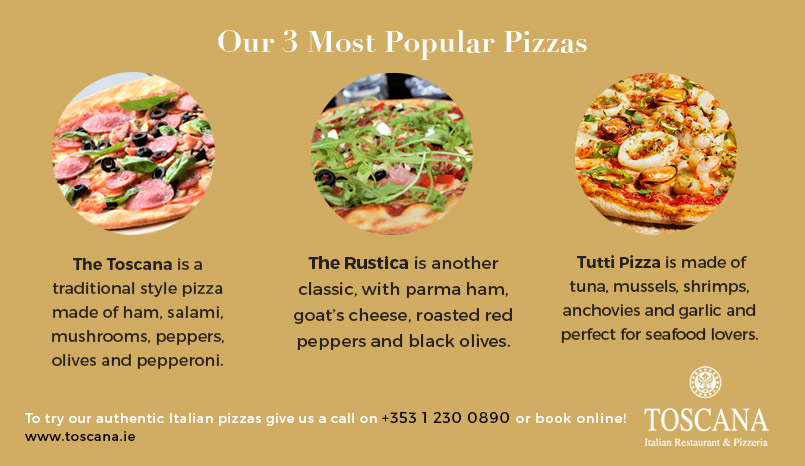 Original Italian Pizza Recipes
At Toscana's, we love what we do and so much love and care is put into every dish we serve that we guarantee you won't be disappointed. This is especially true of our pizzas. Over the last fifty years or so, the pizza has become a truly international cuisine. Pizza restaurants abound in every Western country and they all offer a plethora of choice as far as toppings go. At Toscana's we like to offer choice. Just check out our A La Carte menu. But, as an authentic Italian restaurant, we don't stray far from original Italian recipes.
Pizza By The Sea!
So, if you are in Dun Laoghaire and you fancy a piece of genuine Italian pizza, why not pay us a visit? We promise to deliver an exceptional culinary experience that will have you coming back for more. Give us a call now on +353 1 230 0890 or book online to secure your reservation!