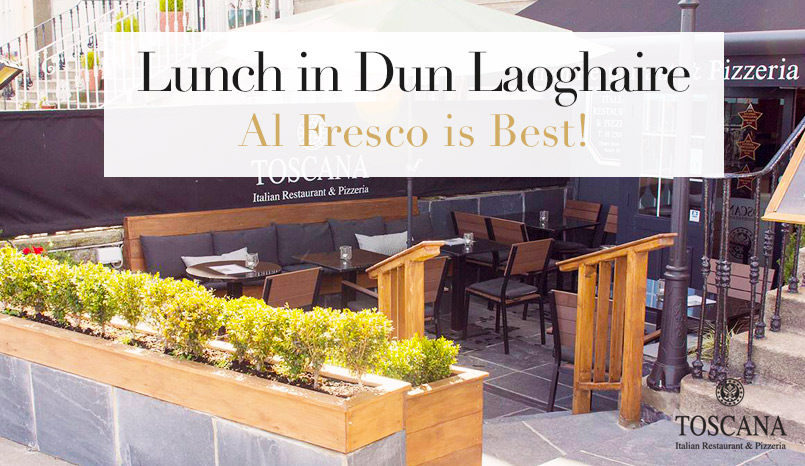 24 Apr

Lunch in Dun Laoghaire – Al Fresco is Best!

The Irish and the Italians are similar in many ways. One such similarity is our love of the warm weather. Another is our love of a good meal. Many people enjoy both at the same time, by eating and drinking in the sun. Dining al fresco at a restaurant is a very pleasurable experience and, if you haven't already tried it, we would recommend that you do so.
Al Fresco Dining in Dun Laoghaire
Toscana's is ideally situated for a fine al fresco meal. Soak up the sunshine and feel the salted warm breeze coming in from Dun Laoghaire bay as you dine on the most delicious Italian cuisine in Dun Laoghaire and beyond.
Al Fresco Is Best!
The sun creates an appetite for good food. Why not combine both pleasures and take a meal in the open? You can enjoy an exquisite lunch in the fresh air, soak up the rays and watch the talent amble by!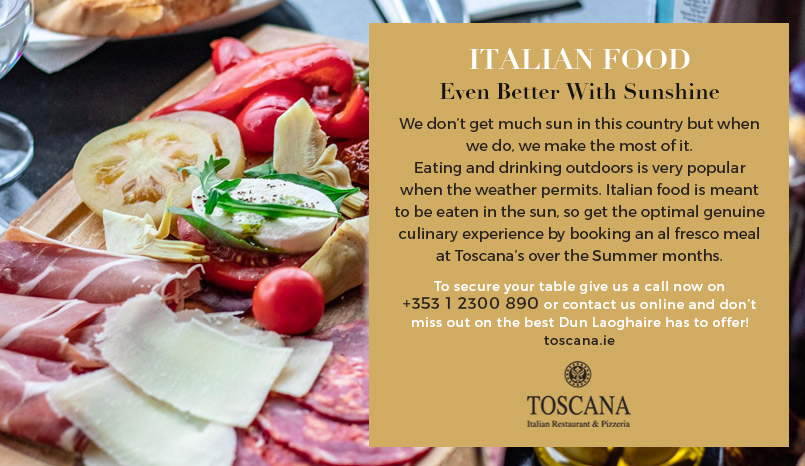 Italian Food – Even Better With Sunshine
We don't get much sun in this country but when we do, we make the most of it. Eating and drinking outdoors is very popular when the weather permits. Italian food is meant to be eaten in the sun, so get the optimal genuine culinary experience by booking an al fresco meal at Toscana's over the Summer months.
Our Italian Lunch Menu
Have a look at our Italian lunch menu. We are sure you will find something to thrill your taste buds. Choose from a broad range of dishes including, for anti pasti, the Sfere di Carne, Funghi All Aglio and Tortino Di Pesce. For mains, we offer traditional dishes such as Spaghetti Primavera and Polpette Di Linguine, as well as our special gourmet burgers, pizzas and salads. Our Italiano hamburger is made with 100% beef, mozzarella, lettuce, red onion and sun ripened vine tomato. Our top lunch sellers are the Supreme Pollo and the Tagliatelle al Salmone.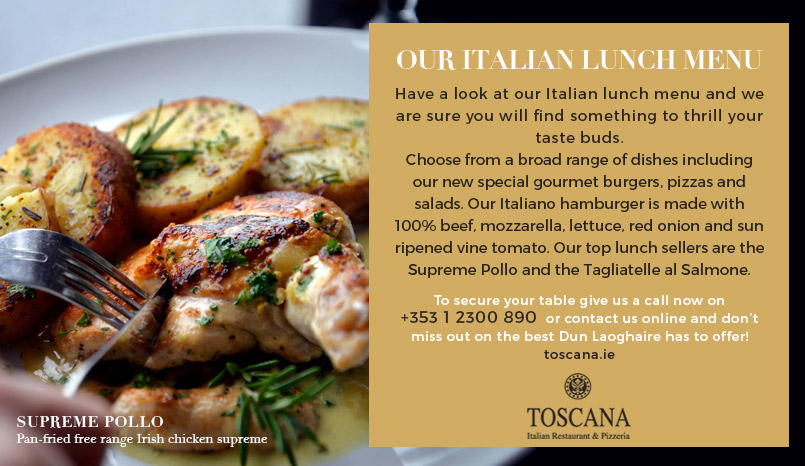 Al Fresco Dining With Sea Views
Yes, when the sun is shining, Ireland really is one of the best places to be in the world so let's hope we get plenty of good Irish sunshine in the coming months – we deserve it! At Toscana's, we look forward to contributing to the good, warm vibes by offering our meals al fresco with spectacular sea views.
The Best Al Fresco Dining in Dublin
Good food, fresh sea air and sunshine, when taken together, are one of life's finest luxuries. So, go ahead and indulge yourself. Book a table today online or by calling us on +353 1 2300 890 and experience among the best al fresco dining Dublin has to offer. Even if the sun doesn't show up, the view of the bay is stunning, and the warm sea breeze is delightful – sample it yourself!