15 Jun

How To Pair Italian Wines & Food!
How To Pair Italian Wines & Food!
When people think of Italian regions, Tuscany is sure to come to mind. This iconic region is home to some of the most beautiful Italian cities, from Pisa to Florence the province is steeped in rich heritage and culture.
Tuscany is renowned the world over for its excellence in the area of food and Italian wine. The hilly landscape produces some of the most highly appreciated wines such as the Chianti Classico and the Brunello di Montalcion, along with many lesser known wines like Vino Nobile di Montepulciano and Vin Santo.
When pairing Italian wine and food it is important to have a basic understanding of the flavour profiles. Bitter, sweet, salt, acid and fat balance together to make a perfect combination. When we want to pair food & wine we must consider complimentary and congruent flavours.
Pairing Wine & Food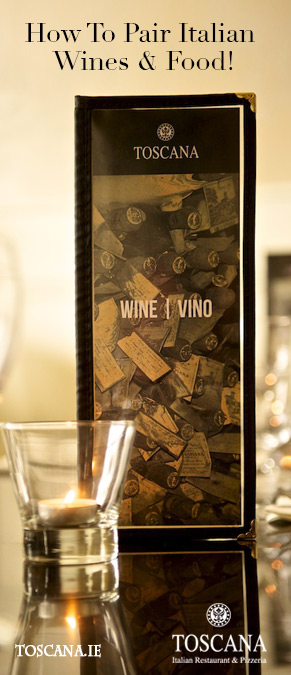 – Acidity in wine pairs well with fatty and sweet foods.
– Fatty foods need either an acidic or high alcohol wine, otherwise the wine will taste flabby.
– Bitter (aka Tannic) wine can be balanced with a sweet food.
– Salty shouldn't compete with acidity in wine. Use sparingly as necessary to keep sharpness in the meal.
– Sweet food/wine benefits from a little acidity.
– Alcohol can be used to cut a fatty dish or balance a sweet dish.
When it comes to Italian food and wine, it is almost always a good idea to pair a regional dish with a regional wine, like a ragù di cinghiale with with a classic sangiovese. An important point to consider is the soil Tuscany supports the life of vegetables and fruits along with the grass livestock feed on. This means the vines share the same soil and nutrient profile as the ingredients resulting in similar flavours.
If you're not visiting us in our Italian restaurant where we always recommend which wine should go which dish here are our top 4 tips to help you for fake it as a sommelier!
Top 4 Wine Pairing Tips
Bring out the best characteristics of the wine: A high tannin wine with a sweet dish
Never mix a bitter wine with a bitter dish
Choose a sweater wine than the dish
The wine should have higher acidity than the food
Follow these simple tips and you're well on the way to pairing the perfect wine with any Italian dish! And, if you'd like us to do the pairing for you, just book you table now.. Ciao!