01 May

Italian Food in Dublin: A Brief History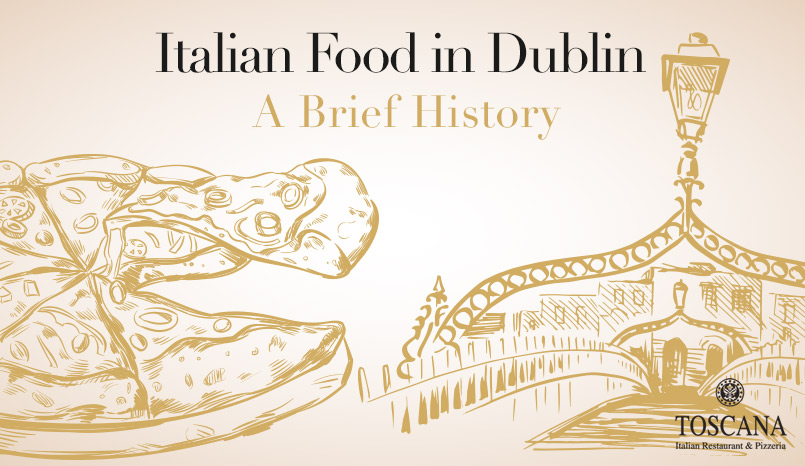 The history of Italian food in Dublin begins not with the cuisine we know and love today but with the humble chipper. Sometime in the 1880s, Giuseppe Cervi arrived in Dublin after stepping off a boat that was America bound in Cobh. He worked as a labourer until he earned enough money to purchase a coal fired cooker and hand cart and with these he sold chips outside Dublin's pubs. Soon after, he settled in a permanent shop on what is now Pearse Street. This was Dublin's (and Ireland's) first chipper. Most Italian chipper families in Ireland come from a district of six villages in the province of Frosinone. These families include the Borzas, Caffellos and Macaris.
First Italian Restaurants in Dublin
Did you know that one of the first Italian restaurants to open in Dublin was The Unicorn on Merrion Court. It was established in 1938 and is still serving up Italian food today. The Unicorn was run by the Sidoli family from Bardi for 57 years before being taken over by Giorgio Casari in 1995.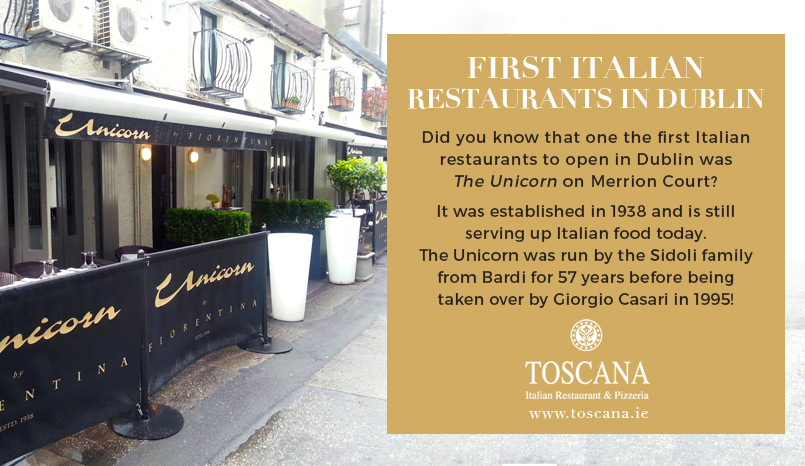 In 1945 Ostinelli's opened on Hawkin's Street and remained in business for eighteen years. Owned by Ernest and Mary Ostinelli, the restaurant was a popular dining spot until it was purchased by the Rank organisation and demolished to make way for Hawkin's House in 1963.
Alfredo's opened its doors in 1953 on Mary's Abbey and proved to be a popular late-night restaurant. It was run by Alfredo Vido from Ospedaletti in Northern Italy until it shut down in the late 1960s.
Other Popular Italians
Bernardo's was set up on Lincoln Place in 1954 by Bernardino Gentile from Rieti. It was one of the first Italian restaurants to offer an exclusively Italian menu and authentic Italian ingredients. In 1991 Bernardo's closed its doors for good. The Coffee Inn was an Italian snack bar run by Bernardino's brother, Antonio. Located on South Anne Street, it was popular with students, artists and musicians, including Phil Lynott, until it shut down in 1995. Other popular Italian restaurants in Dublin were Quo Vadis on St. Andrew's Street and La Caverna on Dame street, both of which were run by the Gentile family. Nico's on Dame Street was opened in 1963 and is still in business today.
Italian Food in Dublin – A Long History
So, Italian food has a long and interesting history in Dublin and Ireland and the future looks bright for Italian restaurants. Today the Italian community in Ireland numbers around 9,000. For such a small segment of the population, Italians have and continue to make a deep impact on the culture and psyche of the nation and they have done this largely through their excellent cuisine.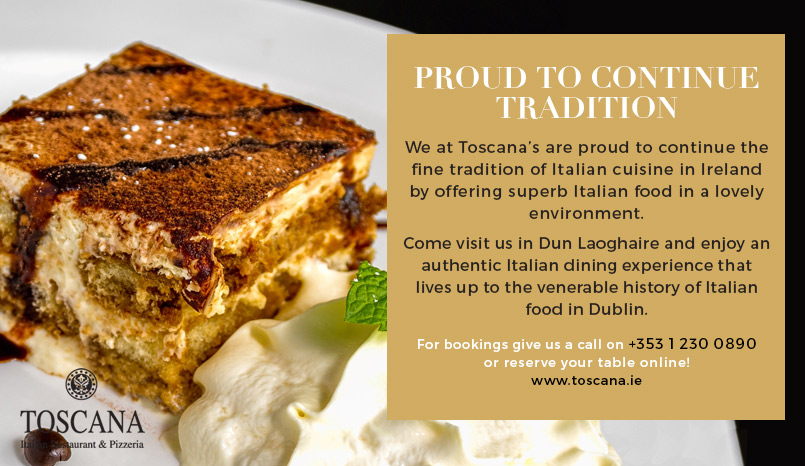 Proud To Continue Tradition
We at Toscana's are proud to continue this fine tradition by offering superb Italian food in a lovely environment. Come visit us in Dun Laoghaire and enjoy an authentic Italian dining experience that lives up to the venerable history of Italian food in Dublin. To make a reservation give us a call on +353 1 2300 890 or book online now!