13 Jul

Five Restaurants in the Dun Laoghaire Area Worth Eating In!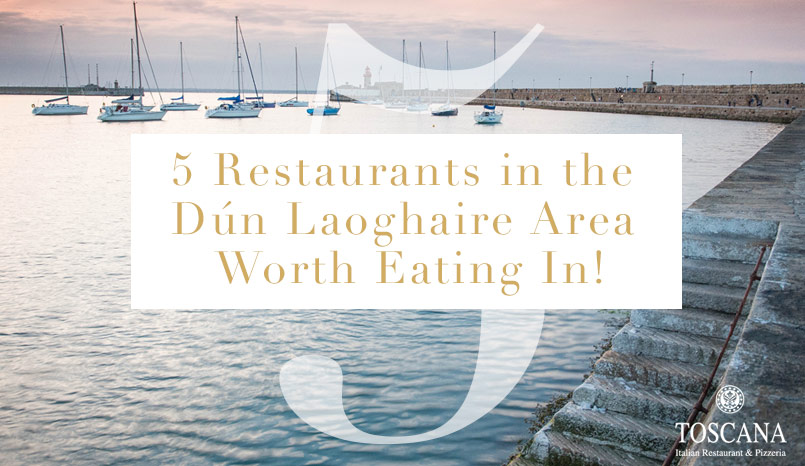 If you've visited our Italian restaurant in Dun Laoghaire, you'll know that we provide the best Italian food in a high-class environment. You'll know that our service is second to none and that we take care of everyone, be they regulars or not. But we accept that sometimes you'll want to visit other restaurants!
Restaurants In the Dun Laoghaire Area
It might be that you want to take the whole family out for a meal or you just don't feel like Italian food. It's okay. We forgive you. In fact, here are some recommendations for other restaurants in the Dun Laoghaire area, which we hope will be helpful.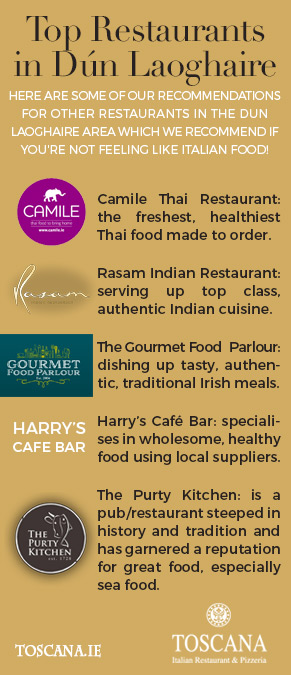 Camile Thai Restaurant
Camile Thai Restaurant offers the freshest, healthiest Thai food made to order. It is not so much a take away as a restaurant that specializes in the delivery of healthy, authentic Thai food. Camile is a 100% Irish owned chain of restaurants, inspired by the glamour, style and functionality of the 1930s Asian Art Deco movement. There is also a French influence: the word 'camile' is French for 'perfect' and that is what you get, whether you are dining at home or in their restaurant.
Rasam Indian Restaurant
Rasam is committed to serving up top class, authentic Indian cuisine. Unlike the food served at Balti houses or curry shops, Rasam offers the real thing. They regionalize their menus so that the customer can get a feel for the different origins of the dishes. They also offer genuine Indian street food as well as vegetarian Indian food.
The Gourmet Food Parlour
The Gourmet Food Parlour was established in 2006 with the aim of providing the best in Irish cuisine. For a tasty, authentic, traditional Irish meal this restaurant can't be beaten. It is an ideal place to bring family or a gang of friends. They serve 'funky' food in a fun, relaxing way. The Gourmet Food Parlour also offers catering for corporate, sports and private events. Enjoy the tradition and great flavour that are at the heart of Irish cuisine at this quality restaurant.
Harry's Café Bar
Harry's Café Bars specialises in wholesome, healthy food using local suppliers. Situated in the centre of Dun Laoghaire, they provide for kids and groups as well as offering catering and take out. Harry's has excellent food inspired by cuisine from all over the globe. It also offers the finest coffees in Dun Laoghaire, made from beans from Central America and Ethiopia. Coffee can be taken home in bean form or ground. They also offer the finest tea, breads and confectionery.
The Purty Kitchen
The Purty Kitchen is a pub/restaurant steeped in history and tradition. Over the years it has garnered a reputation for great food, especially sea food. It also has played host to a number of Irish and international music artists such as The Dubliners, Aslan, Don Baker, Luka Bloom and the Republic of Loose. The food and service is excellent, earning the establishment the award of Dublin's Best Gastro Pub in the 2013 Irish Restaurant Awards. All that is served in the Purty Kitchen is made in the Purty Kitchen, with the exception of some foods that are sourced from other quality Irish producers such as caramel ice cream from a farm in Tipperary and sourdough rye bread from a bakery in Cork. You might also be interested in their fine selections of beers and ales including Irish and international craft beers.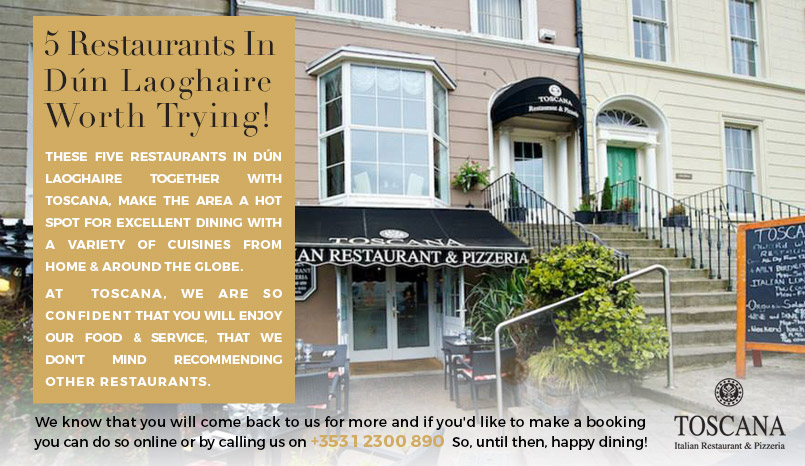 5 Restaurants In Dun Laoghaire Worth Trying!
So, there you have it. Five restaurants in Dun Laoghaire which, together with Toscana, make the area a hot spot for excellent dining with a variety of cuisines from home and around the globe. At Toscana, we are so confident that you will enjoy our food and service, that we don't mind recommending other restaurants. We know that you will come back to us for more and if you'd like to make a booking you can do so online or by calling us on +353 1 2300 890 So, until then, happy dining!