15 Apr

The History (and Mystery) of the Margherita Pizza

It may seem odd but the history of the Margherita pizza, one of the most classic pizzas, is shrouded in mystery. Read more to find out why!

The story goes like this – the year was 1889, the King Umberto I and his beautiful wife Queen Margherita of Savoy were on a visit to Naples, the former capital of the southern kingdom. Historians believe that the Queen grew tired of the gourmet French cuisine that was popular among royals across Europe at the time and summoned the most famous pizza-maker in Naples, Raffaele Esposito who she commissioned to create 3 different pizzas.

The Queen did not like the first 2 pizzas Esposito presented, pizza marinara (garlic) and pizza Napoli (anchovy); however on his 3rd attempt he unveiled a pizza which Queen Margherita approved. The pizza consisted of tomato sauce, mozzarella and a sprig of basil.
Immediately after this Raffaele Esposito named his pizza the margherita and asked the Queen for a Royal Seal. A few days later a chamberlain sent Esposito a thank you note, one which still hangs on the walls of his descendants pizzeria.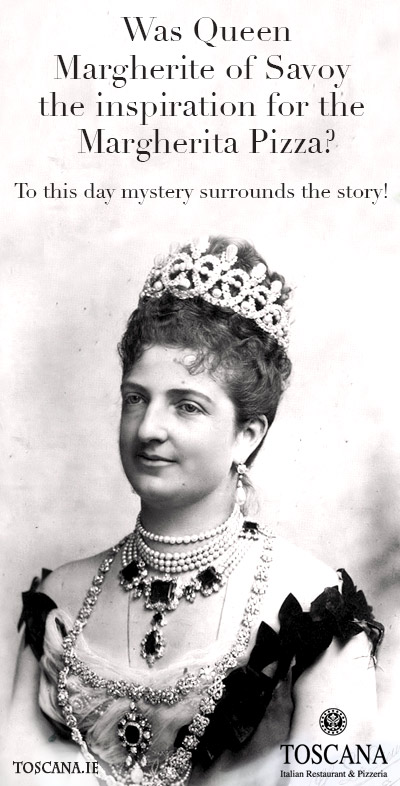 The History of the Margherita Pizza – The Mystery!
Now here is the mystery. It all seemed too much of a coincidence that the Queen of Italy's favorite pizza just happens to be the same colour as the Italian Flag? Red/tomato sauce, white/mozzarella and green/basil and so food historians dug deeper and it was discovered that a number of anomalies occurred with the pizzerias letter.
The royal stamp was similar but not the same as other royal stamps of the time
The stamp was placed off center as opposed to the top left as was common at the time
The letter was written on standard paper not royal stationery
Finally the handwriting was not the same as Camillo Galli, the chamberlain who supposedly wrote the letter
So who forged the letter? It is debated but it seems that Raffaele Esposito sold his pizzeria to his brother-in-law's sons the Brandi Brothers, who in the 1930's came on tough times and crafted this royal fable.
To this day there is no agreement about the letter's veracity but one thing not up for debate is the quality of the classic Margherita pizza! The Margherita pizza is a firm fan favorite in our Italian restaurant and next week we'll be sharing with you our authentic Italian recipe for Margherita pizzas but if you can't wait that long, book a table now and we'll see you soon! Ciao