27 Jun

Vegan Friendly Italian Food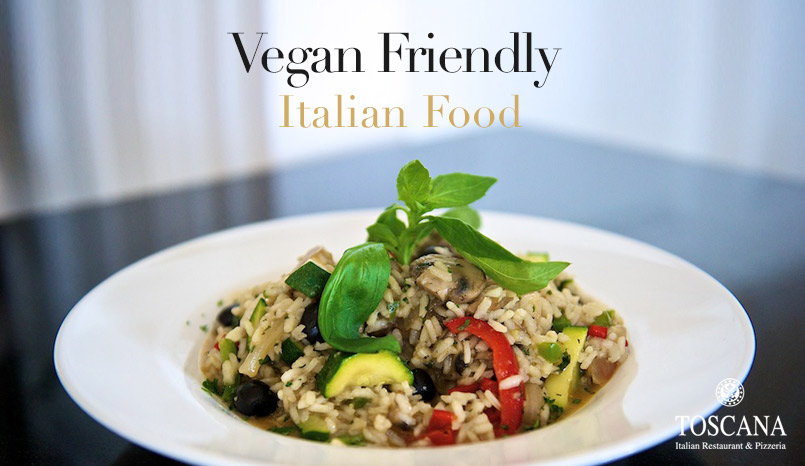 Here at Toscana's we are proud to offer vegan friendly Italian food.
Genuine Italian Vegan Food
Italian food has so many ingredients in it that it is possible to enjoy a genuine Italian culinary experience without meat, eggs or dairy products. Our vegan friendly menu promises a delicious full course meal.
Vegan Food That Is Healthy, Filling and Delicious
Globally, veganism is on the rise and this trend is reflected in Ireland. Going vegan means that you have look after yourself. You must be knowledgeable about your diet for the sake of your health. At Toscana's we offer vegan food that is healthy but also filling and tasty.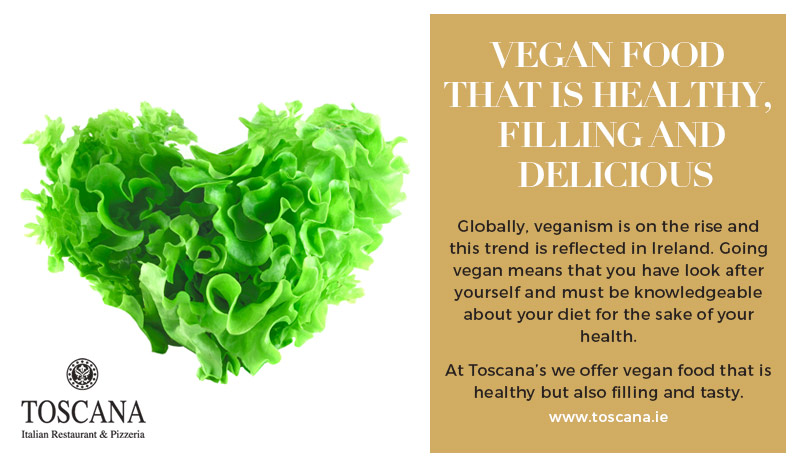 A Pleasing Vegan Diet
Becoming a vegan does not mean giving up culinary pleasure. It is not a death sentence for your taste buds or a sacrifice. There are many options involved in a healthy, pleasing vegan diet and here at Toscana's we are happy to emulate this choice.
Vegan – and Non Vegan – Friendly Food
At Toscana's we are glad to welcome and accommodate vegans but even if you are not a vegan or vegetarian, we guarantee you will find our vegan food both filling and delicious. Perhaps you are thinking of going vegan or maybe you just want something light to eat. Our vegan food will satisfy you. We also cater to those who need gluten free Italian food!
Vegan Friendly Italian Options
Toscana's vegan friendly menu options include homemade vegetable soup and Bruschetta Classico Pomodoro for starters. The Bruschetta consists of grilled bread rubbed with garlic and topped with olive oil, salt and tomato. For mains we have Spaghetti Primavera & Risotto Vegetariano. The Risotto is a northern Italian rice dish. We cook it in a broth derived from vegetables to give you a truly mouth-watering dining experience.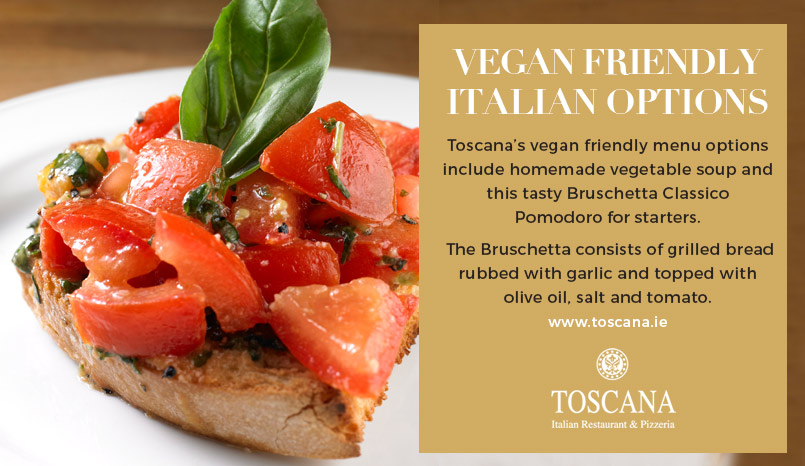 Vegetables & Pasta – An Integral Part of Italian Cuisine
Our delightful vegan dishes are proof that you can enjoy food without meat and dairy products in it. More and more people choose to adopt this diet and lifestyle and we are happy to welcome and cook for them. Vegetables and pasta are such an integral part of Italian cuisine that it is easy to prepare a meal that is based largely upon them.
Vegan And Vegetarian Friendly Italian Restaurant
In our Italian restaurant we aim to make vegans and vegetarians feel comfortable and not awkward, out of place or in need of special treatment. In a hundred years from now most of us will probably be vegetarian, if not vegan, so we reckon its good to get in there early and be ahead of the game! We are the proof that there is good vegan food available outside of vegan restaurants.
So, if you are vegan, vegetarian or just thinking about becoming either, drop in and we'll provide a filling, nutritious meal that tastes as good as any other. For bookings give us a call on +353 1 2300 890 or reserve your table online!